Notebook Lenovo Thinkpad T440p Core i5-4300M 2.6GHz 8Gb 500Gb 14.1" WEBCAM Windows 10 Professional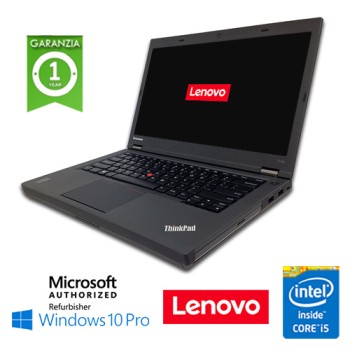 Codice Prodotto:

T440P-4300M-8-500-10P

Spese di trasporto:

€ 9,00

Disponibilità:

Non disponibile

Prodotto usato e ricondizionato, riportato a un perfetto stato di funzionamento, con 1 Anno di garanzia. Batteria usata e garantita solo per i primi 30 giorni dall'acquisto. Imballo non originale brown box
*** Lenovo Thinkpad T440p Core i5-4300M 8Gb 500Gb 14.1" WEBCAM Windows 10 Pro ***

Lenovo ThinkPad T440p Tipo di prodotto: Ultrabook, Colore del prodotto: Nero, Fattore di forma: Clamshell. Frequenza del processore: 2,3 GHz, Famiglia processore: Intel® Core™ i5 di quarta generazione, Processore: i5-4300U. RAM installata: 8 GB, Tipo di RAM: DDR3L-SDRAM, Velocità memoria: 1600 MHz. Capacità totale hard disk: 500 GB, Supporto di memoria: SATA, Dimensione hard disk: 2.5". Dimensioni schermo: 35,6 cm (14"), Risoluzione: 1600 x 900 Pixels
Con Sistema Operativo Microsoft Windows 10 Professional 64bit INSTALLATO con LICENZEA NUOVA ORIGINALE MAR "Microsoft Authorized Refurbisher"
Software backup & recovery Acronis True Image con licenza per sempre e Antivirus McAfee Full gratuito per 1 anno. Tutto installato e pronto all'uso.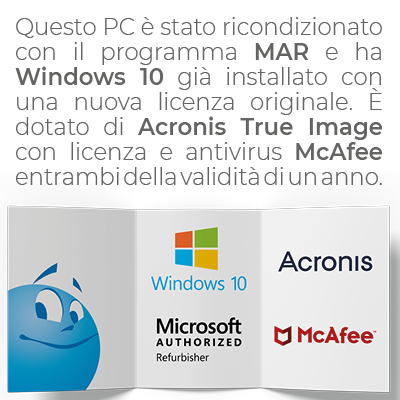 Design
Tipo di prodotto: Ultrabook
Colore del prodotto: Nero
Fattore di forma: Clamshell
Intel segment tagging: Home Office, Small Business
Processore
Frequenza del processore: 2.6 GHz
Famiglia processore: Intel Core i5-4xxx
Frequenza del processore turbo massima: 3,3 GHz
Numero di core del processore: 2
Numero di threads del processore: 4
Socket processore: BGA1168
Tipo di cache del processore: Smart Cache, L3
Litografia processore: 22 nm
Modalità di funzionamento del processore: 64-bit
Nome in codice del processore: Haswell
Thermal Design Power (TDP): 15 W
Serie di processore: Intel Core i5-4300 Mobile series
Numero massimo di corsie Express PCI: 12
PCI Express slots version: 2.0
configurazione PCI Express: 1x4, 2x4
Memoria interna massima supportata dal processore: 16 GB
Processore (da zone) Conflict free: Si
Tipologie di memoria supportati dal processore: DDR3L-SDRAM
Velocità memory clock supportate dal processore: 1333,1600 MHz
Banda di memoria supportata dal processore (max): 25,6 GB/s
Canali di memoria supportati dal processore: Doppio
ECC supportato dal processore: No
Memoria
RAM installata: 8 GB
Velocità memoria: 1600 MHz
RAM massima supportata: 16 GB
Fattore di forma memoria: On-board + SO-DIMM
Supporti media
Capacità totale hard disk: 500GB
Supporto di memoria: SATA
Numero di SSD installati: 0
Interfaccia Solid State Drive : Seriale ATA II
Lettore di schede integrato: Si
Tipi schede di memoria: MMC, SD, SDHC, SDXC
Display
Dimensioni schermo: 35,6 cm (14")
Risoluzione: 1600x900 Pixels
Retroilluminazione a LED: Si
Luminosità schermo: 300 cd/m²
Rapporto di contrasto: 700:1
Tipologia touch screen: No
Grafica
Modello scheda grafica integrata: Intel HD Graphics 4400
On-board graphics adapter base frequency: 200 MHz
On-board graphics adapter dynamic frequency (max): 1000 MHz
Memoria massima dell'adattatore della scheda grafica installata: 1,74 GB
Number of displays supported by on-board graphics adapter: 3
Scheda grafica dedicata: No
On-board graphics adapter DirectX version: 12
ID dell'adattatore della scheda grafica installata: 0xA16
Drive ottico
Tipo drive ottico: No
Audio
Numero di altoparlanti incorporati: 2
Potenza altoparlante: 1 W
Microfono incorporato: Si
Macchina fotografica
Fotocamera frontale: Si
Risoluzione fotocamera frontale: 1280 x 720 Pixels
Standard Wi-Fi: 802.11a, 802.11ac, 802.11b, 802.11g, 802.11n
Collegamento ethernet LAN: Si
Velocità trasferimento Ethernet LAN: 10,100,1000 Mbit/s
Connettività
Quantità di porte USB 3.0 (3.1 Gen 1) di tipo A: 3
Quantità porte VGA (D-Sub): 1
Quantità porte Ethernet LAN (RJ-45): 1
Microfono, spinotto d'ingresso: Si
Jack combinato per microfono/auricolare: Si
Tipi di slot CardBus PCMCIA: No
Quantità di Mini DisplayPort: 1
Porte USB Sleep-and-Charge: 1
Numero totale di connettori SATA: 4
Numero di connettori SATA III: 4
Tastiera
Tastiera numerica: No
Software
Sistema operativo incluso: Windows 10 Pro
Architettura sistema operativo: 64-bit
Caratteristiche speciali del processore
Intel Wireless Display Technology: Si
Intel My WiFi Technology: Si
Intel Smart Connect Technology: Si
Intel Anti-Theft Technology: Si
Intel Identity Protection Technology: Si
Intel vPro Technology: No
Intel Hyper-Threading Technology: Si
Intel Turbo Boost Technology: 2.0
Intel Matrix Storage Technology: Si
Tecnologia Intel Audio HD: Si
Tecnologia potenziata Intel SpeedStep: Si
Intel Clear Video HD Technology: Si
Tecnologia Intel Clear Video: No
Intel InTru 3D Technology: Si
Intel Quick Sync Video Technology: Si
Intel Flex Memory Access: No
Intel AES New Instructions: Si
Tecnologia Intel Trusted Execution: No
Intel Enhanced Halt State: Si
Intel VT-x with Extended Page Tables (EPT): Si
Intel Demand Based Switching: No
Intel Clear Video Technology for MID: No
Tecnologia Thermal Monitoring: Si
Dimensione della confezione del processore: 40
Istruzioni supportate: AVX 2.0
Codice del processore: SR170
CPU configuration (max): 1
Embedded options available: No
Intel Virtualization Technology for Directed I/O (VT-d): No
Versione della Tecnologia Intel Smart Connect: 1.00
Intel Identity Protection Technology: 1.00
Versione della Tecnologia Intel Secure Key: 1.00
Versione Intel TSX-NI: 0.00
Tecnologia Intel Virtualization (VT-x): Si
Tecnologia Intel Dual Display Capable: No
Intel Rapid Storage Technology: Si
Intel Fast Memory Access: No
Batteria
Numero di celle della batteria: 3+3
Gestione energetica
Adattatore dissipazione di potenza AC: 45 W
Adattatore di frequenza AC: 50/60 Hz
Adattatore di voltaggio input AC: 100 - 240 V
Sicurezza
Blocco cavo: Si
Lettore di impronte digitali: Si
Trusted Platform Module (TPM): Si
Protezione della password: Si
Protezione password: HDD, Power on, Supervisor
Dimensioni e peso
Peso: 1,76 kg
Packaging
Manuale dell'utente: Si
Cavo alimentazione incluso: Si
Condizioni ambientali
Intervallo temperatura di funzionamento: 5 - 35 °C
Intervallo di temperatura: 5 - 43 °C
Range di umidità di funzionamento: 8 - 95%
Altitudine di funzionamento: 0 - 2438 m
Certificati di sicurezza
Certificazione Energy Star: Si
Conformità EPEAT: Argento
Altre caratteristiche
Sistema audio: Dolby Home Theater v4
Angelo B.

Prodotto ottimo.
Gianluigi R.

Ottimo prodotto
Vedi anche