Notebook Dell Latitude E6230 Core i5-3340M 2.7GHz 4Gb 500Gb 12.5" WEBCAM LEGGERO Windows 10 Professional
Codice Prodotto:

E6230-3340M-4-500-10P

Codice EAN/UPC:

0738283978968

Spese di trasporto:

€ 9,00

Disponibilità:

Non disponibile

Prodotto usato e ricondizionato, riportato a un perfetto stato di funzionamento, con 1 Anno di garanzia. Batteria usata e garantita solo per i primi 30 giorni dall'acquisto. Imballo non originale brown box
*** Dell Latitude E6230 Core i5-3340M 2.7GHz 4Gb 500Gb 12.5" LEGGERO Windows 10 Pro ***
DELL Latitude E6230. Tipo di prodotto: Computer portatile, Colore del prodotto: Nero, Argento, Fattore di forma: Clamshell. Frequenza del processore: 3,0 GHz, Famiglia processore: Intel Core i5-3xxx, Processore: i5-3340M. RAM installata: 4 GB, Tipo di RAM: DDR3-SDRAM, Velocità memoria: 1600 MHz. Supporto di memoria: SSD, Capacità hard disk: 500 GB. Dimensioni schermo: 31,8 cm (12.5"), Risoluzione: 1366 x 768 Pixels, Formato: 16:9
Con Sistema Operativo Microsoft Windows 10 Professional 64bit INSTALLATO con LICENZEA NUOVA ORIGINALE MAR "Microsoft Authorized Refurbisher"
Software backup & recovery Acronis True Image con licenza per sempre e Antivirus McAfee Full gratuito per 1 anno. Tutto installato e pronto all'uso.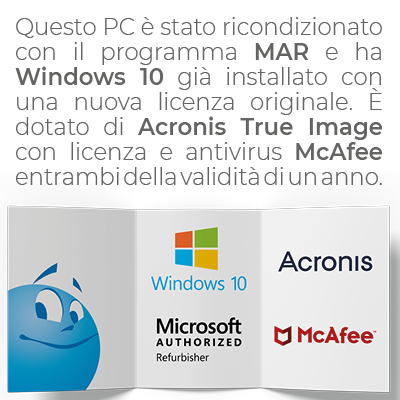 Design
Tipo di prodotto: Computer portatile
Colore del prodotto: Nero, Argento
Fattore di forma: Clamshell
Processore
Frequenza del processore: 2,7 GHz
Famiglia processore: Intel Core i5-3xxx
Frequenza del processore turbo massima: 3,4 GHz
Numero di core del processore: 2
Numero di threads del processore: 4
Socket processore: BGA1023
Tipo di cache del processore: SmartCache, L3
Chipset scheda madre: Intel QM77 Express
Litografia processore: 22 nm
Modalità di funzionamento del processore: 64-bit
Nome in codice del processore: Ivy Bridge
Thermal Design Power (TDP): 35 W
Serie di processore: Intel Core i5-3300 Mobile series
Numero massimo di corsie Express PCI: 1
PCI Express slots version: 3.0
configurazione PCI Express: 1x16, 2x8, 1x8+2x4
CPU multiplier (bus/core ratio): 27
Memoria interna massima supportata dal processore: 32 GB
Processore (da zone) Conflict free: Si
Tipologie di memoria supportati dal processore: DDR3-SDRAM, DDR3L-SDRAM
Velocità memory clock supportate dal processore: 1333,1600 MHz
Banda di memoria supportata dal processore (max): 25,6 GB/s
Canali di memoria supportati dal processore: Doppio
ECC supportato dal processore: No
Memoria
RAM installata: 4 GB
Velocità memoria: 1600 MHz
RAM massima supportata: 8 GB
Fattore di forma memoria: SO-DIMM
Supporti media
Capacità totale hard disk: 500 GB
Supporto di memoria: SATA
Numero di hard drive installati: 1
Interfaccia hard disk: SATA
Lettore di schede integrato: Si
Display
Dimensioni schermo: 31,8 cm (12.5")
Risoluzione: 1366 x 768 Pixels
Retroilluminazione a LED: Si
Grafica
Modello scheda grafica integrata: Intel HD Graphics 4000
On-board graphics adapter outputs supported: DisplayPort, Embedded DisplayPort (eDP), HDMI, Serial Digital Video Out (SDVO), VGA (D-Sub)
On-board graphics adapter base frequency: 650 MHz
On-board graphics adapter dynamic frequency (max): 1250 MHz
Number of displays supported by on-board graphics adapter: 3
Scheda grafica dedicata: No
ID dell'adattatore della scheda grafica installata: 0x166
Drive ottico
Tipo drive ottico: No
Audio
Microfono incorporato: Si
Macchina fotografica
Fotocamera frontale: Si
Collegamento ethernet LAN: Si
Velocità trasferimento Ethernet LAN: 10,100,1000 Mbit/s
Tecnologia di cablaggio: 10/100/1000Base-T(X)
Standard di rete: IEEE 802.3, IEEE 802.3ab, IEEE 802.3u
Connettività
Quantità porte USB 2.0: 1
Quantità di porte USB 3.0 (3.1 Gen 1) di tipo A: 2
Quantità porte eSATA/USB 2.0: 1
Quantità porte VGA (D-Sub): 1
Quantità porte Ethernet LAN (RJ-45): 1
Microfono, spinotto d'ingresso: No
Jack combinato per microfono/auricolare: Si
Tipi di slot CardBus PCMCIA: No
Tastiera
Dispositivo di puntatura: Touchpad
tastiera retroilluminata: Si
Software
Sistema operativo incluso: Windows 10 Professional
Architettura sistema operativo: 64-bit
Software: Dell Webcam Central software
Caratteristiche speciali del processore
Intel Wireless Display Technology: Si
Intel My WiFi Technology: Si
Intel Anti-Theft Technology: Si
Intel Identity Protection Technology: Si
Intel vPro Technology: Si
Intel Hyper-Threading Technology: Si
Intel Turbo Boost Technology: 2.0
Tecnologia potenziata Intel SpeedStep: Si
Intel Clear Video HD Technology: Si
Tecnologia Intel Clear Video: No
Intel InTru 3D Technology: Si
Intel Quick Sync Video Technology: Si
Intel Flex Memory Access: Si
Intel AES New Instructions: Si
Tecnologia Intel Trusted Execution: Si
Intel Enhanced Halt State: Si
Intel VT-x with Extended Page Tables (EPT): Si
Intel Demand Based Switching: No
Intel Clear Video Technology for MID: No
Tecnologia Thermal Monitoring: Si
Dimensione della confezione del processore: 31
Istruzioni supportate: AVX
Codice del processore: SR0XB
CPU configuration (max): 1
Embedded options available: No
Grafica & litografia IMC: 22 nm
Intel Virtualization Technology for Directed I/O (VT-d): Si
Intel Identity Protection Technology: 1.00
Versione della Tecnologia Intel Secure Key: 1.00
Tecnologia Intel Virtualization (VT-x): Si
Tecnologia Intel Dual Display Capable: Si
Intel Rapid Storage Technology: No
Intel Fast Memory Access: Si
Batteria
Tecnologia batteria: Ioni di Litio
Numero di celle della batteria: 3/6
Gestione energetica
Adattatore di frequenza AC: 50/60 Hz
Adattatore di voltaggio input AC: 100 - 240 V
Dimensioni e peso
Peso: 1,38 kg
Altezza (anteriore): 2,24 cm
Altezza (posteriore): 2,47 cm
Packaging
Manuale dell'utente: Si
Certificati di sicurezza
Certificazione Energy Star: Si
Conformità EPEAT: Argento
Altre caratteristiche
Intel visual technologies: Intel Clear Video HD, Intel Insider, Intel InTru 3D, Intel Quick Sync Video
RAFFAELLA M.

esattamente quello di cui avevo bisogno. ottimo il rapporto qualità/prezzo
Santo R.

Lievi cenni di usura, ovviamente accettabili per un prodotto usato. Questo è il secondo portatile che acquisto e sono soddisfatto.
Marco R.

Spedizione velocissima,funzionamento impeccabile e condizioni estetiche buone; insomma tutto OK!
irene c.

Servizio di consegna molto veloce ed affidabile, a pochi giorni dall'acquisto, molto soddisfatta. PC ben tenuto e in buone condizioni.
Giorgio R.

Pienamente soddisfatto, il notebook ha giusto qualche lieve segno d'uso, ed è pienamente efficiente. Spedizione veloce.
lorenzo r.

Al momento piena soddisfazione sul prodotto Voto 8
Andrea O.

Prodotto ok ma graffiato in più punti

risposta di Simpaticotech del 11-07-2016

Se non è soddisfatto del notebook lo possiamo cambiare. La preghiamo di aprire un RMA. Grazie
Vedi anche